Here are screenshots from the upcoming Micorosoft RDP 6 client for Windows (Vista and XP), and explanations for each feature so that you can get started with your testing now and stay ahead of the game.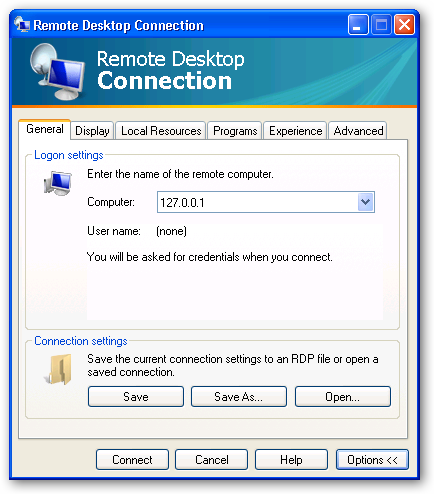 The options screen to the new RDP 6 client is very similar to that in version 5, but as you can see, it does not have input regions for login name and password. This is now done when you connect, and yes it can still be stored. Also note that just like in previous versions, if you would like to save the settings you will need to return to this tab as Microsoft still seems to think that saving options should not be done from all tabs for some reason. If you would like to make the options that you changed or reconfigured global, you would save the file as default.rdp in your "My Documents" folder. In Vista this is simply called "Documents" to make things easier. Yes, they have gotten rid of the "My" prefix now.
We have all of three options here: Remote Desktop Size, Colors and the Option to diplay the connection bar when in full screen mode. Remote desktop size: whether you want to display your remote desktop connection in full screen mode or not. This does work fer very large monitors, including those widescreen suckers. It will scale down to many other sizes depending on what you maximum resolution is. The amount of colors has now increased to 32bit in the newest version of the Remote Desktop Connection 6 client (RDP 6). This means getting accurate color from applications such as Adobe Photoshop is much easier now, though you will still need to do proper calibration.

The local resources tab controls the way your remote computer or terminal connects to your Longhorn or Windows 2003 R2 Terminal Server. For sound, you have the option to play sound locally, to leave the sound on the remote computer (host) or to ignore sound completely. I have noticed that the sound quality seems tobe much better in the new RDP client, but that it depends on the connection you are using. For example when using a Wifi-B connection, the sound quality appeared to be roughly the same as the previous client iteration. When I then connected the laptop to a wired (LAN) connection, the difference was apparent when switching back and forth between RDP 5 and RDP 6. I should probably be more precise here – what I mean by sound quality appears to affect times when multiple sounds play at once, as well as when sound are triggered by alerts or login notifications, the sounds appear to play faster, having less latency than in the RDP 5 client.
The keyboard menu here allows you to specify whether actions such as alt-tab will always be recognized by the remote computer even when in windowed mode, or if the host should accept them – the host being your computer in this case. I think the default is fine for most people – meaning keep it set to only accept these commands when in full-screen mode.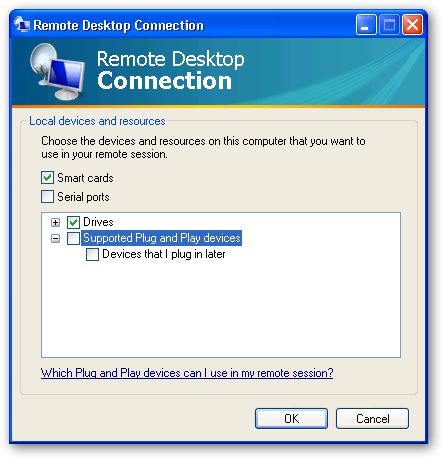 Local Devices and Resources: RDC 6 supports using local devices will logged into a remote computer provided that the proper driver exists on the remote host. Microsoft will be writing generic drivers for many devices, and currently things like smart cards, serial ports and hard drives are already supported, but the list will be growing.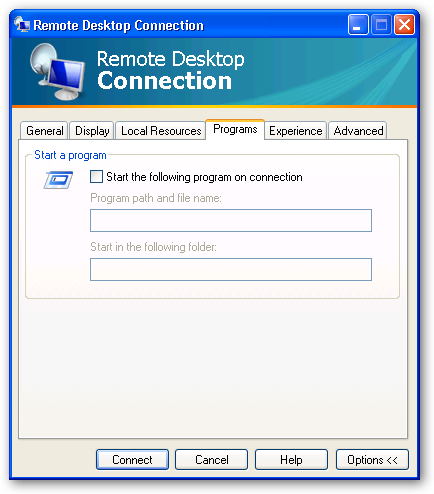 The programs tab allows you to specify applications to run on connection to a remote host. You can specify the path of the application to run, as well as input information regarding the folder to start the program in.
The experience tab allows you to tweak the connection settings in order to get a less latent (slow updating) connection to your remote host. When people complain about this to me it typically involves things like typing speed not being fast enough in RDP sessions, and screen refreshes being very slow. If you are using a connection to a remote computer in a local network that runs at 100mbit or up, I have found that you can safely have all of the experience options turned on. On a wireless B connection (11mbps), you may want to turn all of the settings off. If you are connecting remotely, I would highly recommend turning all of them off.
There is also an option on the screen that has always looked out of place to me – and I think it should be on the general page as it seems to be a general option. At any rate, you can also specify whether or not to reconnection after your connection is dropped by checking this checkbox. I typically have this checked.
Lastly, we have the advanced tab, which allows you to set so-called "advanced" options. Basically this involves two things.
The first is server authentication. This allows you to confirm if you are connecting to the proper remote computer. In practice, I have found that this simply does not work in Windows XP, and now have it set to not warn me if the authentication fails, because it will always fail, without a doubt. If you use Vista or Windows Server Codename Longhorn, this does in fact work, so you can leave it set to default ("Warn me if authentication fails").
The second option dubbed "Connect from anywhere" only works with gateway servers, like the new Terminal Services in Longhorn. At this point, you are unable to use the function on Windows XP. You are able to turn it on in Windows Vista, and can play with the settings provided you have a Terminal Services Gateway Server in your network.